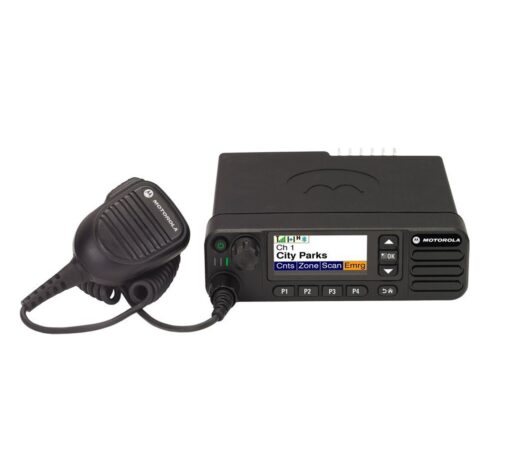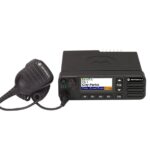 Description
Features
Application
Description
The DM4000e Series is a family of ETSI DMR Standards compliant digital radios that delivers operation-critical voice and data communications. Bluetooth audio lets you talk without wires, integrated Wi-Fi enables remote software updates and indoor and outdoor location-tracking capabilities give you total visibility of your resources. With support for trunking as well as legacy analogue technology, you can keep your organisation connected as it grows.
Text messaging and Work Order Ticketing simplify complex communications, and data capabilities support advanced applications. Featuring a high power audio amplifier, these radios deliver loud, clear speech, with background noise cancellation for better intelligibility. DM4000e Series radios are also ideal as a dispatcher solution, with desktop microphones and a rugged, durable design for everyday use.
In the box:
Compact Microphone
Low Profile Trunnion
Power Cable
In-box Documentation
NOTE: The 24 month warranty only applies to the radio and does not apply to any accessories shipped within the model package.
DM4000e Spec Sheet
UHF1 (403-470MHz) LP/HP; VHF (136-174MHz) LP/HP; UHF2 (450-527MHz) LP-HP; 300R1 (300-360MHz) LP-HP; 300R2 (350-400MHz) LP-HP
Channel Spacing 12.5/20/25kHz (UHF/VHF/300); 12.5/25kHz (UHF2)
IP54 rated
1000 channels
4-line alphanumeric numerical display & icons
3 watt built-in loudspeaker for clear audio
Intuitive menu-driven user interface
Rugged front & rear accessory connectors
Accessory connector supports USB interface
4 programmable buttons to increase operator efficiency
Multi-coloured LED indicators provide clear feedback on radio operating status
Quick, easy-to-use Group, Individual and All-call capability
PTT ID helps improve communications efficiency and system discipline
Remote Monitor features
Intelligent Audio feature automatically adjusts the radio volume according to the environment's noise level
Voice announcement of channel change and feature activation
5 Tone analogue feature support
Basic / Enhanced Privacy
AES256 Encryption via Software Purchase
VOX Capability
Lone Worker
Integrated GNSS (GPS and GLONASS)
Integrated Bluetooth 4.0 LE for wireless and data
Integrated Wi-Fi (OTA Software Updates and ADK) via Software Purchase
Indoor Location Tracking via Software Purchase
Direct Mode (including Dual Capacity Direct Mode)
IP Site Connect (Single and Multi-Site)
Capacity Plus (Single and Multi-Site)
Capacity Max via Software Purchase
Connect Plus via Hardware and Software Purchase
Memory (128MB RAM & 256MB Flash memory)
Additional information
| | |
| --- | --- |
| Brand | Motorola |
| Device Type | Mobile |
| Technology | Digital (DMR) |
| IP Rating | IP54: This rating means that dust will not interfere with the operation of the radio and water splashing from any direction have no harmful effect. |
| Frequency | UHF, VHF |
| Industry | Taxi |
"For further product or rental enquiries use below enquiry form or email info@airphoneuk.com"