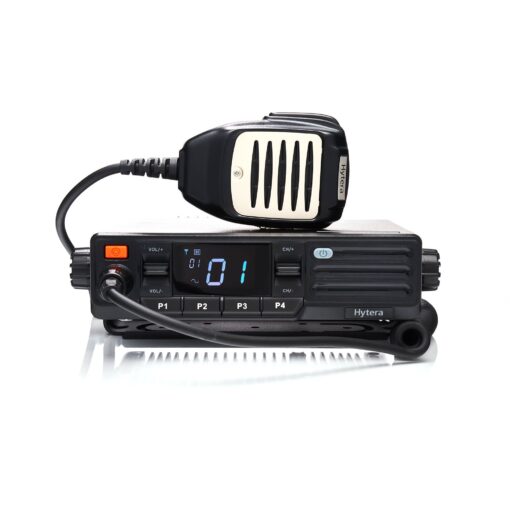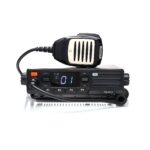 Description
Features
Application
Description
Hytera's MD615 is an entry-level DMR mobile with huge capability. Perfect for agricultural communications, reliable and crystal-clear communication can be achieved thanks to its high power output and robust design.
Analogue & Digital Auto-Detect – Compatible with analogue conventional and digital conventional modes. This allows the MD615 to simultaneously monitor analogue and digital modes, automatically responding in each mode. This presents an easy solution when migrating from analogue to digital.
Powerful Coverage – With a high RF power output up to 50W, the MD615 can dramatically increase your communication range.
GPS (optional) – With an external GPS module and GPS antenna, the MD615 can upload its real-time position to AVL applications.
Bluetooth (optional) – With built-in Bluetooth the MD615 can support wireless audio accessories and external PTT devices.
Double Capacity in Direct Mode – Based on DMR TDMA technology, you can have two voice calls simultaneously in direct mode.
Pseudo Trunking – Several talk groups share the same frequency, and each one of them can dynamically choose to use one of the slots to talk. This is a two-slot-trunked mode. While time-slot 1 is busy, the MD615 will use time-slot 2 to transmit.
Emergency Alarm/Call – Use the orange emergency button to initiate an emergency alarm and call to other radios.
In the box:
Radio
Remote speaker microphone
Microphone hanger and screws
15A tube fuse
Mounting Bracket
Power cord
User Manual
MD615 Brochure
Up to 256 channels
12.5/25 selectable channel spacing
Channel Scan
Bluetooth (optional extra – MD615B)
IP54 and MIL-STD-810 G to ensure outstanding performance in harsh environments
Digital voice call function
Optional GPS (external accessory)
DMR Services (remote monitor, radio enable, radio disable, call alert)
Lone-worker
Basic digital encryption (40/64/256 bits) and scrambler in analogue mode
Pseudo trunk operation (DMO & RMO)
True two slot in DMO
Multi-Site Roaming
DTMF signalling (analogue mode)
HDC1200
One-touch call/text message/digital features
Digital emergency
Additional information
| | |
| --- | --- |
| Brand | Hytera |
| Industry | Agriculture, Construction, Taxi |
| Device Type | Mobile |
| Technology | Digital (DMR) |
| IP Rating | IP54: This rating means that dust will not interfere with the operation of the radio and water splashing from any direction have no harmful effect. |
| Frequency | UHF, VHF |
"For further product or rental enquiries use below enquiry form or email info@airphoneuk.com"