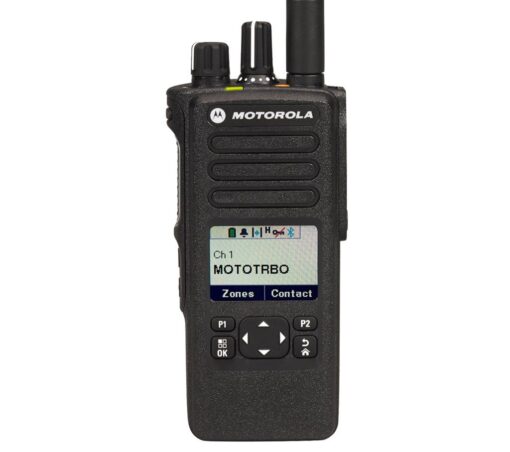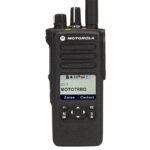 Description
Features
Application
Description
The DP4601e Series is designed to bring all the features of the DP4600e but includes extra sophisticated features in the same Military Spec 810 and IP67 Submersible package with a full keypad for convenient selection of channels and extra functionality.
The radio includes Bluetooth audio which lets you communicate without wires; the new integrated Wi-Fi enables remote software updates without technician attendance and is capable of indoor and outdoor location-tracking to give total visibility of your staff.
The radio will interface with legacy analogue radio systems for complete compatibility.
The series features a prominent emergency button with Transmit Interrupt to clear the channel. An integrated accelerometer can sense if there is a man down and initiate a call for assistance. The man down, Wi-Fi and location tracking option board and these features can be activated by license keys.
The DP4601e offers up to 28 hours of battery life for 3-shift working and an improved receiver boosts range by up to 8% on previous models.
In the box:
Lithium Battery
IMPRES Single-Unit Charger
Antenna
Dust Cover
Belt Clip
In-box Documentation
DP4000e Spec Sheet
VHF (136-174MHz); UHF (403-527MHz)
1000 channels.
Large Full-colour, 5-line display – operating in Day or Night mode for easy viewing.
Tri-colour LED for clear visual feedback on radio operating status.
Easy-to-use menu navigation keys enable intuitive user interface.
Large, textured push-to-talk button for ease of use even when wearing gloves.
5 programmable buttons to improve ease-of-use and increase operator efficiency.
Emergency button to help ensure rapid response to critical incidents.
Sophisticated Emergency Calls.
Enhanced Privacy.
VOX Capability.
Transmit Interrupt.
Noise Cancellation.
Received Audio Levelling.
Text To Speech.
Lone Worker.
Integrated GNSS (GPS and GLONASS).
Integrated Bluetooth 4.0 LE for wireless and data.
Integrated Wi-Fi (OTA Software Updates and ADK).
Integrated man-down.
Indoor Location Tracking.
Intelligent Audio allowing the radio volume to automatically adjust to compensate for background noise.
IP68 Submersible.
IP Site Connect (Single and Multi-Site)
Capacity Plus (Single and Multi-Site)
Additional information
| | |
| --- | --- |
| Brand | Motorola |
| Device Type | Portable |
| Technology | Digital (DMR) |
| IP Rating | IP68: This rating provides greater increased resistance to ingress of dust and water immersion than IP67 with the depth for immersion generally up to 3 meters. |
| Frequency | UHF, VHF |
| Industry | Agriculture, Construction, Industry & Manufacturing, Surveillance |
"For further product or rental enquiries use below enquiry form or email info@airphoneuk.com"