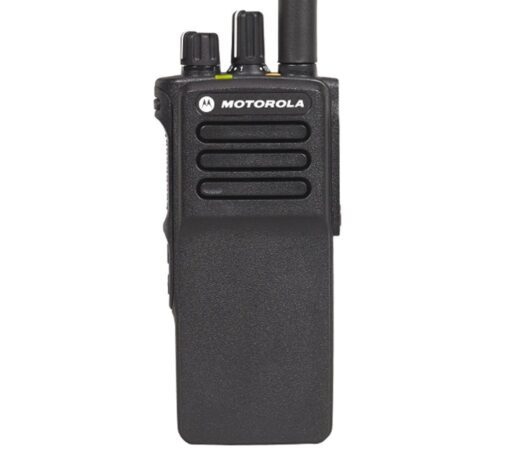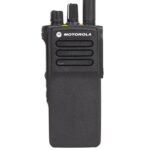 Description
Features
Application
Description
he DP4001e like the DP4400 previously shown, is an exceptionally powerful and tough submersible radio rated to IP68 for resistance to most extreme environmental hazards including oils and general contaminants.
This model is also designed for professional users who require unrelenting reliability in extremely harsh conditions, this radio is built and tested to meet military standards and features a prominent emergency button with Transmit Interrupt to clear the channel.
Intelligent Audio adjusts the radio volume automatically to compensate for varying background noise levels and  Bluetooth audio lets you communicate without wires.
Additional features with the DP4401e provide integrated Man Down Lone Worker, Wi-Fi and Location Tracking option board and these features may be activated by license keys. A prominent easily located emergency button provides 'Transmit Interrupt' to clear the channel. An integrated accelerometer can sense if there is a someone incapacitated and will initiate a call for assistance. The radio is tested to military standards and is waterproof to IP68.
Like the DP4400, this new technology offers up to 28 hours of battery life for 3-shift working and an improved receiver boosts range by up to 8% on previous models.
In the box:
Lithium Battery
IMPRES Single-Unit Charger
Antenna
Dust Cover
Belt Clip
In-box Documentation
NOTE: The 24 months warranty only applies to the radio, it does not apply to batteries or accessories shipped within the model package. Service From the Start packages are also available.
DP4000e Spec Sheet
Frequency Bands available: VHF (136-174MHz); 300R1 (300-360MHz); 300R2 (350-400MHz); UHF (403-527MHz)

32 channels
Large, textured push-to-talk button for ease of use even with gloved hands
Emergency button
Sophisticated Emergency Calls
PTT ID helps improve communications efficiency and system discipline
Remote Monitor
Elegant channel scanning schemes help ensure calls are received first time every time
Enhanced Privacy
AES256 Encryption via Software Purchase
VOX Capability
Transmit Interrupt
Lone Worker
Integrated GNSS (GPS and GLONASS)
Integrated Bluetooth 4.0 LE for wireless and data
Integrated Wi-Fi (OTA Software Updates and ADK) via Software Purchase
Integrated man-down via Software Purchase
Indoor Location Tracking via Software Purchase
Intelligent Audio allowing the radio volume to automatically adjust to compensate for background noise
IP68 Submersible
IP Site Connect (Single and Multi-Site)
Additional information
| | |
| --- | --- |
| Brand | Motorola |
| Device Type | Portable |
| Technology | Digital (DMR) |
| IP Rating | IP68: This rating provides greater increased resistance to ingress of dust and water immersion than IP67 with the depth for immersion generally up to 3 meters. |
| Frequency | UHF, VHF |
| Industry | Agriculture, Construction, Events, Industry & Manufacturing, Surveillance |
"For further product or rental enquiries use below enquiry form or email info@airphoneuk.com"