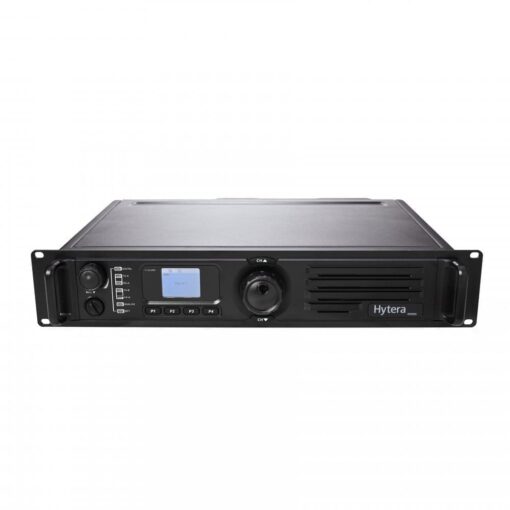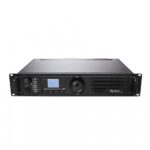 Description
Features
Application
Description
The RD985 and RD985S DMR repeaters from Hytera are at the heart of analogue and digital radio networks and were developed in line with the open ETSI standard for DMR. Both repeaters are characterized by their reliability and outstanding functionality.
The heart of professional radio systems – All the repeaters from Hytera can be connected in digital mode via IP connection to a comprehensive radio network. In analogue mode, the repeaters can be connected together back-to-back. Both in conventional analogue and DMR modes (DMR Tier II), the RD985 and RD985S repeaters can be used with the RD625 and RD965 repeaters in a radio system.
Upgradeable for greater challenges (RD985S) – The RD985S repeater supports not only conventional analogue and digital modes, but also other modes that can be unlocked with a chargeable licence. It can be upgraded
into a base station for DMR simulcast, DMR trunked radio (Tier III) or Hytera XPT radio systems. This means that the RD985S is a secure investment for growing radio projects.
Improved utilization of the frequency spectrum – Thanks to the TDMA technology, twice as many users can use the same channel. Due to restricted frequency resources, this represents an important relief and reduces expense for system terminals and licences.
Dual mode and automatic change – Both repeaters can switch independently between the digital and analogue modes, depending on the type of the receiver signal.
Secure communication – To protect your radio communications, the RD985 and RD985S repeaters over advanced digital encryption functions, according to the DMRA specification. Depending on the variant, both repeaters support encryption with 40, 128 or 256 bit.
In the box:
RD985 repeater
Power Supply (PS22002)
Power Supply Cord
User Manual
RD985 Brochure
Up to 16 channels
100% continuous duty cycle from 5W to 50W
Supports two simultaneous voice paths in digital mode
Auto detection between analogue mode and digital modes
IP site connect (digital mode only)(optional)
Four programmable keys to improve ease-of-use and increase operator efficiency
Advanced heat sink design with thermal-controlled cooling fan ensures reliability during extended use
Supports built-in duplexer
Supports both analogue and digital modes
Repeater Diagnostic and control (RDAC)
External power supply
Power on user logo programming
Multi-language menu display
Multiple CTCSS/CDCSS in analogue and mixed channel
Additional information
| | |
| --- | --- |
| Brand | Hytera |
| Device Type | Repeater's & System's |
| Technology | Analogue, Digital (DMR) |
| Frequency | UHF, VHF |
"For further product or rental enquiries use below enquiry form or email info@airphoneuk.com"