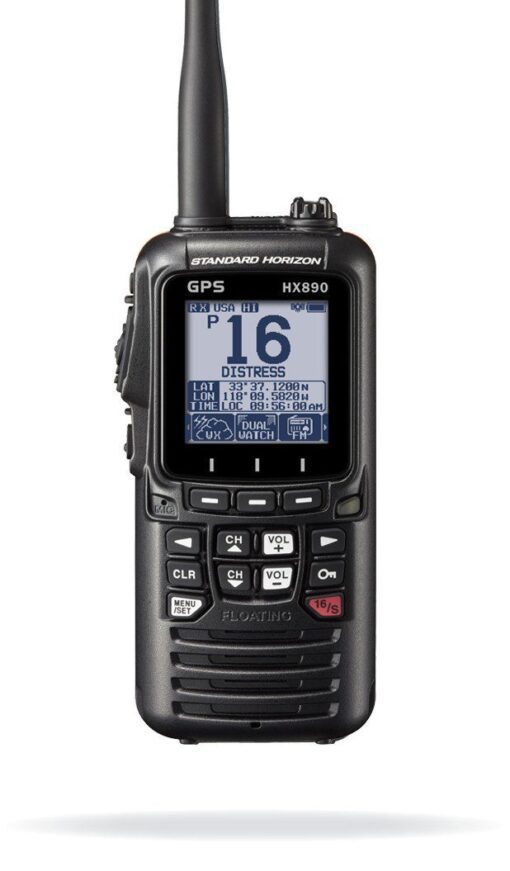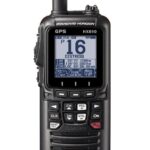 Description
Features
Application
Description
DSC (Digital Selective Calling) ITU-R M.493 Class-H operation – The HX890E has full DSC capabilities which enables your precise location and identification information to be transmitted on pressing the Distress Alert button on the rear of the radio. (requires GPS switched on and Portable MMSI number entered).
Floating with a Water Activated Emergency Strobe Light – The HX890E will float face up and is waterproof to the IPX-8 standard which is 1.5m for 30 minutes.
When the radio falls in the water an emergency strobe light is automatically activated, even when the unit is turned off. The strobe can be reconfigured to flash on and off, flash SOS, or set to stay on continuously.
Integrated 66 Channel WAAS GPS receiver – A highly sensitive 66 channel GPS receiver allows the HX890 to lock on to a position quickly and accurately. With position information displayed clearly on the display the user will be able to share position information using DSC and navigate to waypoints using the waypoint navigation feature of the radio.
Waypoint and Route Navigation – The HX890 is capable of storing up to 250 waypoints and 20 Routes (with a maximum of 30 waypoints per route).  The Navigation screen clearly displays the distance and direction to the destination, and the waypoint is indicated by a dot on the compass rose graphic.
Easy to Operate Icon/Menu System – Forget about trying to memorize the owner's manual. A brand new Easy to Operate Menu system with icons makes this the most intuitive handheld on the market. DSC calling, position sharing, waypoint and route navigation, navigation to DSC distress call can all be performed with just a few simple steps.
GM (Group Monitor) using DSC Group Position Call – This advanced feature allows you to continuously track and display position information of up to 9 pre-selected vessels. Their position information is displayed on the compass page relative to your location on the display.
Built in FM Broadcast band receive – The HX890E has an expanded receiver allowing the user to tune in to their favourite FM radio station. The radio will receive FM broadcast bands between 76 MHz to 108 MHz
Oversized full dot matrix display – The HX890 boasts one of the largest displays in a hand held VHF radio. Measuring 43mm wide by 43mm tall, or 58mm diagonal. With a large display, high (dot matrix) resolution, and a super bright backlight there will be no mistaking the information displayed on the face of the radio day or night.
In the box:
CAT460 Antenna
SBR-13LI 7.4V 1800 mAh Li-ion Battery Pack
SAD-25 AC adaptor with Multi Region plug for SBH-32
SBH-32 Charger Cradle
E-DC-19A DC Cable with 12 V Cigarette Lighter Plug for SBH-32
SBT-13 Alkaline Battery Case for 5 x AAA Batteries
CLIP-22 Belt Clip
YS-05-01 Hand Strap
T9101648 USB Cable
Owner's Manual
Warranty Card
HX890E Brochure
DSC (Digital Selective Calling) ITU-R M.493 Class-H operation

Built-in integrated 66 channel GPS receiver

6W transmit power output (selectable 6/2/1 W)

Available in navy blue or black

Floating and Submersible to IPX8 with a Water-activated emergency white strobe light

700mW loud audio and Noise cancelling function for both transmit and receive audio

11-hour operating time with 1800mAh high capacity Li-ion battery (Based on a 5-5-90 duty cycle)

SBT-13 Alkaline Battery Case for 5 x AAA included

Easy to Operate menu system with a large (43 x 43 mm) full-dot matrix display

Selectable display mode – day & night

Waypoint and route navigation

Group monitor function utilizing DSC group position call

MOB (Man Over Board) feature

Versatile scanning operation (dual watch and triple watch)

FM broadcast radio receiver

Rugged case construction conforms to Military Standard (MIL-STD-810F)

Two scrambler systems built-in – 4-code CVS2500A & 32-code FVP-42

Micro USB data jack for PC programming

All USA, International and Canadian channels

ATIS Mode for European Inland Waterways

3 Year Waterproof Warranty
Additional information
| | |
| --- | --- |
| Brand | Standard Horizon |
| Industry | Marine |
| Device Type | Portable |
| Technology | Analogue |
| IP Rating | IPX8: Protected against continual water submersion in under water conditions. |
"For further product or rental enquiries use below enquiry form or email info@airphoneuk.com"