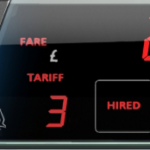 Description
Features
Application
Description
Easy Installation – Its innovative wiring and connector arrangement means that the T2 has no projections at the rear which would make it difficult to fit onto flat or curved surfaces. It installs easily onto any car dash board or into various other positions such as in the overhead of the car's cabin.
Calendar Controlled or Manual Tariffs – The T2 has extensive tariff capabilities and may be programmed by your dealer to handle any combination of time, distance and fares. It can hold a large number of "special day" information in order for it to automatically select the correct rate to charge, or it can be completely manual
Approved and Compliant – The T2 is CE/M marked to show it complies with the requirements of the Measuring Instruments Directive. Also approved by the DOE in Northern Ireland, which includes Type Approval tests and on-road testing.
Warnings and Modes – You can manually set 2 speed alarms to warn you if you exceed a pre-set speed. The T2 can give an audible warning if the vehicle is moved with the meter in STOPPED mode. You can use a special PIN number to stop anyone else from reading the totals.
*Please note, pricing is for equipment purchase only.  Installation and any other required work will attract an additional cost.  Contact us for further details.
.
NORTHERN IRELAND'S LEADING TAXI METER SPECIALISTS
Additional information
| | |
| --- | --- |
| Brand | Aquila |
| Industry | Taxi |
| Device Type | Taxi Meter |
"For further product or rental enquiries use below enquiry form or email info@airphoneuk.com"